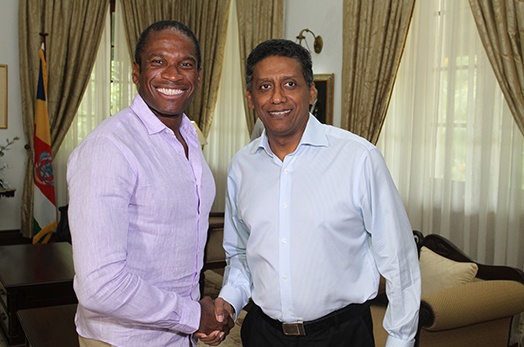 President Faure meets with Founders of BitMEX
Sat, 15 December 2018
President Danny Faure met with the Co-Founder and Chief Executive Officer of Bitcoin Mercantile Exchange (BitMEX), Mr Arthur Hayes, this morning at State House. Mr Hayes was accompanied by Co-Founder and Chief Strategy Officer, Mr Ben Delo as well as Co-Founder and Chief Technology Officer, Mr Samuel Reed.
Mr Hayes and his delegation are in the Seychelles to meet with government officials and discuss the services that their company offer in the Financial Technology (FinTech) sector; in particular the trading of crypto-currency derivatives.  The global development of this sector, largely in its infancy in the majority of jurisdictions, holds great potential for the international financial services sector of Seychelles.
President Faure welcomed the delegation to their first visit to Seychelles and expressed Government's commitment to creating a good regulatory framework within which such firms can operate and flourish.  During the discussions, they shared with the Head of State how their company started, their plans regarding Seychelles and how they want to participate in the expansion of FinTech and cryptocurrencies industry here.
BitMEX was formed in January 2014 and have always been one of Seychelles' International Business Company (IBC). Speaking to the press after the meeting, Mr Hayes described his discussions with President Faure as very constructive. He explained that they chose Seychelles because it provides a sound legal system and respect for contract law, as well as it is flexible in allowing businesses to get above their jobs and bring values to clients.
"I believe that a nation like Seychelles globally can move into a digital age and allowing the trading, investing, and the whole area of digital assets like Bitcoin," said Mr Hayes.
Also present at the meeting was the Economic Adviser to the President, Mr Bertrand Belle, Chairperson of the Financial Services Authority, Mr Suketu Patel, Chief Executive Officer Financial Services Authority, Dr Steve Fanny and Managing Partner of Appleby, Mr Malcolm Moller.