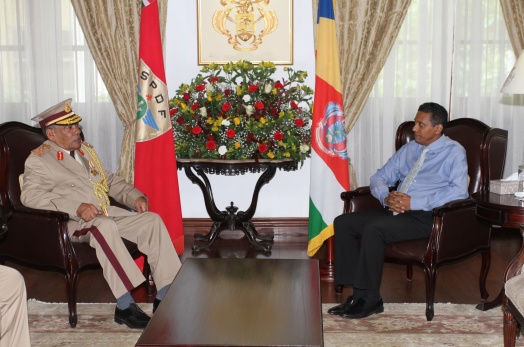 President Faure receives Brigadier Payet ahead of his retirement
Fri, 28 December 2018
The President of the Republic and Commander-in-Chief of the Seychelles People's Defence Forces (SPDF), Mr Danny Faure, received Brigadier Leopold Payet on his final visit to State House as the Chief of Defence Forces this morning.
In their meeting, the President thanked Brigadier Payet once again for his 41 years of service to SPDF, the country, and the people of Seychelles. President Faure also thanked him for the restructuring and modernisation of SPDF, which occurred under his leadership. President Faure stressed that his discipline, commitment and hard work would continue to inspire the next generation.
On the occasion of his retirement, Brigadier Payet received a full guard of honour at State House.