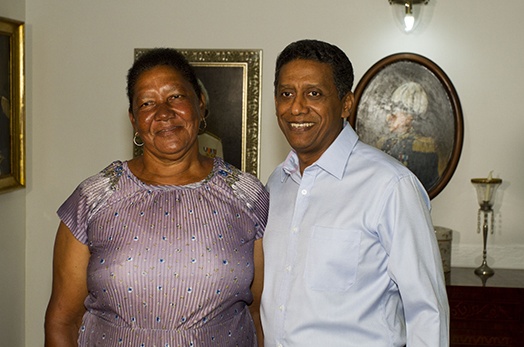 President Faure meets Mrs Philomena Labonte
Thu, 03 January 2019
President Danny Faure received Mrs Philomena Labonte, a cleaner at STAR Seychelles, at State House this morning. The President told her that he wanted to start the new year by meeting an exemplary worker with a strong work ethic.
Mrs Labonte has been working with STAR Seychelles for the last 21 years as a road cleaner. She is responsible for keeping central Victoria clean, including State House Avenue and Independence Avenue.
In their meeting, Mrs Labonte shared her experiences with the President, including her daily schedule. She told him how she wakes up at 3 am, walks from her house at La Louise to Victoria at 4 am, and starts her work by 5 am every morning, including public holidays. She also mentioned that tourists frequently approach her for directions or conversation, and she expressed her happiness at being able to help people every day. She explained how her family taught her to work hard and strive to do her best. She also outlined the various jobs she has done over the course of her 47-year career, including 3 years in the hotel industry.
The President commended Mrs Labonte for her strong work ethic and long years of service. He praised her hard work and commitment and expressed his wish that she would inspire other citizens. President Faure encouraged her to keep up the hard work and thanked her for her service.
Speaking to local media, Mrs Labonte said that she enjoys her work and she makes sure that she maintains a positive attitude. She said her line of work allows her to meet and speak to many people, including tourists, and that she enjoys brightening other people's day with conversation and helping those who need assistance.