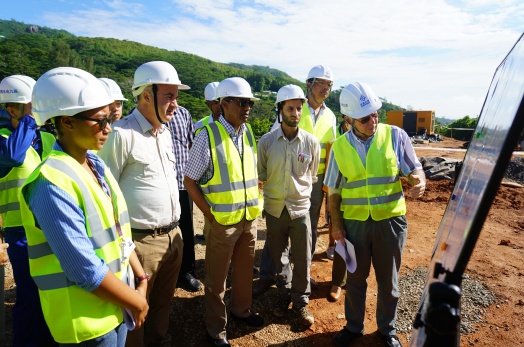 President Faure visits La Gogue Dam
Fri, 11 January 2019
The President of the Republic, Mr Danny Faure, visited the La Gogue dam project this morning. Work is underway to rehabilitate and upgrade the existing water reservoir and raise the storage capacity by 60%, which will in turn raise the country's water supply.
President Faure was accompanied on his visit by the CEO of PUC, Mr Philippe Morin, the Chairperson of the PUC Board, Mr Eddy Belle, and engineers working on the project. The President was briefed on the technical details of the project and viewed the site firsthand.
The project involves raising the storage capacity of La Gogue dam by 60%, raising it from 1 million cubic metres to 1.6 million cubic metres. The height of the dam will be raised by 6 metres from its current height of 145 metres above sea level. The project also involves the construction of a new spillway for extra water from the dam to flow out, and the raising of the intake tower by 6.55 metres. There are also plans to construct a new water treatment plant once the dam embankments have been raised, which will be able to treat 4,400 cubic metres of water in a day. As a result, the northern region would have guaranteed water supply.
Following the site visit, the President thanked PUC for their hard work and said that the project is critical for the country. The project is scheduled for completion in March 2020, provided there are no further delays caused by heavy rains.