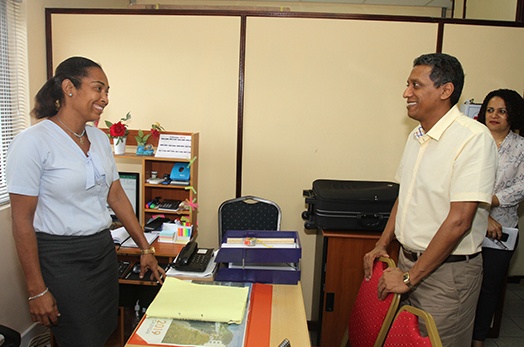 President Faure visits institutions and farmers on Praslin
Sat, 02 February 2019
The President of the Republic, Mr Danny Faure, visited various institutions as well as agricultural farms on Praslin yesterday.
The Presidential delegation was welcomed at the Property Management Company (PMC) at the Pension Fund Building, Grand Anse, by the Office Supervisor, Mrs Samantha Hoareau and Estate Technician, Mr Cliff Athanase. This PMC office is also responsible for managing and maintaining buildings and other property on La Digue on behalf of the Government.
In the same building, the President and his delegation visited the Social Affairs Office, under the leadership of Senior Social Worker, Ms Maryse Bresson. President Faure was briefed on the different services that the Office offered on Praslin and La Digue respectively as well as their relations with other institutions.
The delegation then proceeded to the Housing Finance Company (HFC) where he was welcomed by its Branch Manager, Mrs Margaret Rose. He was given a tour of the premises, where he met the staff of this Company.
The President also visited the Agricultural Station Office, Amitié, where he was given a guided tour by the Senior Extension Officer, Mr Jose Guerreiro.
At the end of each visit, the President chaired meetings with senior staff and management team, where they briefed him on their operations and constraints, and areas they hope to improve on.
President Faure also visited several farmers in the Amitié district. With a population of some 129 registered farmers on Praslin and La Digue, the farmers shared their challenges with the President.
As part of his working schedule, the President also met with members of the public who had written to him requesting an appointment.