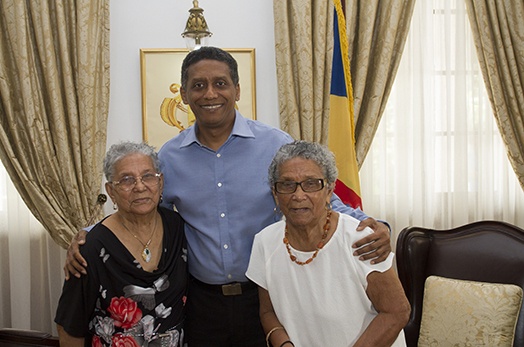 President Faure receives 91-year-old twin sisters
Tue, 12 March 2019
The President of the Republic, Mr Danny Faure, received twin sisters, Mrs Florine Kandasamy and Mrs Floria Alexis, at State House this morning.
The twin sisters, aged 91 years old, expressed their wish in a recent interview on SBC to visit State House and meet the President. As a result, they were formally invited to State House and had the chance to personally meet President Faure this morning.
President Faure welcomed them to State House and expressed his honour at being able to host two very vibrant and inspiring Seychellois women who have worked hard to contribute to the country.
During the meeting, Mrs Kandasamy and Mrs Alexis shared with the President their experiences and perspectives.
Born on
27 November 1927
, Mrs Kandasamy and Mrs Alexis grew up in a family of 15 siblings where they are the oldest.
The sisters thanked the President for his invitation and for making time to meet with them, a gesture they said they will cherish.
They were accompanied to State House by their granddaughters Ms Gisele Desaubin and Ms Helene Amblavany.