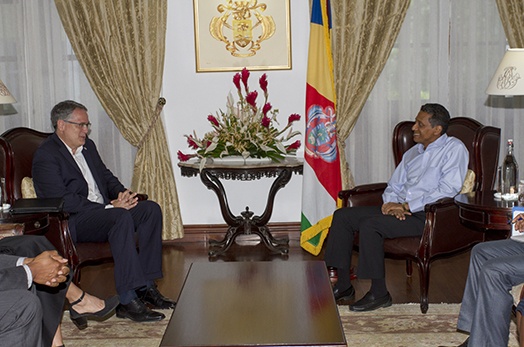 Seychelles and United States of America set to strengthen bilateral ties
Thu, 11 April 2019
President Danny Faure welcomed the Ambassador of the United States of America to the Republic of Seychelles, H.E. David Reimer, at State House this afternoon.
Ambassador Reimer is in Seychelles on a 10-day working visit where he will be conducting various meetings with various government officials, members of the private sector, and NGOs.
The President welcomed Ambassador Reimer back to Seychelles and highlighted some of the active cooperation projects being undertaken through the solid cooperation that exists between the two countries. This includes the continued support and assistance of the American Government in the fields of security and defence, counter narcotics and law enforcement in the country.
President Faure and Ambassador Reimer also discussed the issue of the report released by the US Coast Guard on conditions imposed for the entry of vessels arriving in US waters from the Republic of Seychelles.
Ambassador Reimer reaffirmed the commitment of the American Government to support and work with the Seychelles Port Authority (SPA) to ensure that Port Victoria meets the various requirements and implements the necessary corrective measures to conform with the required standards set by the International Ship and Port Facility Security Code (ISPS).
Ambassador Reimer was accompanied to State House by US Official from the American Drug Enforcement Agency (DEA), Mr Arthur Dullock, Political and Science Analyst, Ms Megan Fluckiger, and from the US Consular Office on Mahe,  Political/Economic Assistant, Ms Marie- Annette Ernesta.