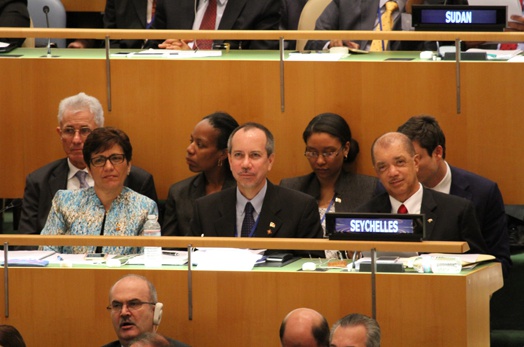 President James Michel has attended the opening of the 70th session of the United Nations General Assembly Debate in New York on Monday
President Michel is set to address the Assembly on Tuesday afternoon, highlighting Seychelles' motivations and ambitions in view of the post 2015 development agenda and the future viability of the world organisation.
The 70th anniversary of the United Nations is a momentous occasion in the organisation's history not only as it has gathered the largest number of world leaders but also because it seeks to adopt and gain consensus amongst its member states to implement the 2030 development agenda and includes the Sustainable Development Goals.
The Secretary-General of the United Nations Mr Ban Ki-moon officially opened the proceedings reiterating the intended outcome of the 2030 Agenda for Sustainable Development to end extreme poverty by the year 2030 and give people a life of peace and dignity. Mr. Ban further stressed that the members of the United Nations must be cognizant of the promises proclaimed in its Charter and listen to the voices of all its peoples to overcome the harsh realities facing the world today.
The President of the Federative Republic of Brazil, Dilma Rousseff was the first Head of State to speak, focusing primarily on the refugee crisis stating that her nation is hosting immigrants and that there should be common resolve and determination to help resolve the situation and that the world should not impede the movement of people.
President Roussef was followed by the President of the United States of America, Mr. Barack Obama who spoke about the principles of diplomacy in the world to govern collective action for a more stable and peaceful world. Mr Obama also commented on recent international crises and called on world leaders to exercise leadership 'strong enough to recognize that nations share common interests and people share a common humanity.'
The Minister for Foreign Affairs and Transport, Mr. Joël Morgan, Ambassador of the Republic of Seychelles to US and Permanent Representative to the United Nations, Mrs. Marie-Louise Potter and Diplomatic Adviser to the President, Ambassador Callixte d'Offay, accompanied President James Michel to the opening of the UNGA.
Editor's note