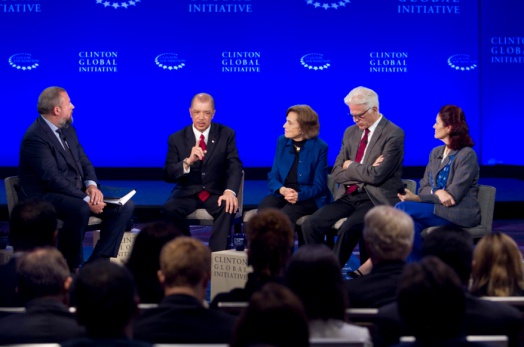 Speaking at a panel at the Clinton Global Initiative (CGI) Special Session on Sustainable Oceans on the sidelines of the United Nations General Assembly's General Debate on Monday, President James Michel made a strong statement emphasising the urgency for unified action against climate change and its impact on the oceans of the world.
"Climate change is hurting the sea which is the lifeblood of our Blue Planet... As such, non-action on the issue condemns humanity's collective future to a dark fate," he said.
President Michel highlighted the plight of small island states in the fight against climate change as well as the opportunities that oceans provide to fuel the potential of people placing them at the centre of development.
In announcing The Blue Guardians Commitment to Action, former United States President Bill Clinton remarked that President Michel was an example of a leader helping to ensure resilient and sustainable oceans by protecting large areas of it.
The other panelists at the Clinton Global Initiative (CGI) Special Session on Sustainable Oceans included the world famous American marine biologist, oceans explorer, author and lecturer Sylvia Earle, who is the founder and chair of The Sylvia Earle Alliance,  as well as American actor, author and producer, Ted Danson, who is also a member of the board of directors of Oceana, an NGO billed as the largest international ocean conservation and advocacy organization, and Maria Jose Gonzales, Executive Director of the Mesoamerican Reef Fund (MAR Fund).
"Seychelles has committed itself to be a Blue Economy pioneer.  We have committed to empowering ourselves as Blue Guardians to not only empower island states, but to offer a new avenue for sustainable development and fighting climate change. And we know that many others share our aspirations. We stand ready to act as guardians- and as channels for all those countries, and organizations who want to make a real and immediate difference in our oceans health- our planet's well-being. It begins with us all," said President James Michel after the event.
President Michel was present for the launch of the Blue Guardians initiative, together with the Prime Minister of St Vincent and Grenadines, Ralph Gonsalves.
Blue Guardians is a partnership established by the governments of the Small Island Developing States (SIDS) through SIDS DOCK, a renewable energy initiative that connects the energy sector in SIDS with the global market for finance. The partnership includes leading private sector technology and data providers, including DigitalGlobe, a leading global provider of commercial high-resolution earth observation and advanced geospatial solutions; the Clinton Climate Initiative, an initiative of the Clinton Foundation; multi-lateral development organizations, including the World Bank; and conservation NGOs such as Conservation International, The Nature Conservancy, and GRID-Arendal.
This international consortium of public and private organizations aims to develop sustainable island economies while increasing resilience to climate change by supporting coastal communities, marine and fisheries conservation, and clean renewable energy.
"Climate change is the single largest challenge facing global leaders today.  And none of us can solve it alone.  Our individual actions will count for little if they don't contribute to a comprehensive global approach. When we look at our ocean- we are reminded of the threat that sea level rise poses for all of us.  But we are also inspired- because we believe that our oceans also offer us the best route to respond together against climate change. For island states- our Blue Economy offers the opportunity to both create sustainable economic growth, and build climate change resilience for ourselves and our planet," said President Michel.
SIDS contribute the least to climate change, yet are feeling the greatest impact of its consequences. Climate adaptation for many of these countries is a matter of survival. While small in landmass, SIDS govern over vast territorial oceans and coastlines when their exclusive economic zones are included.
These areas are threatened by climate change, leading to increased ocean acidification, decline in fisheries, and more frequent and severe storms. Historically, development of these huge ocean spaces and their abundant, and often unknown, marine resources have largely been limited to fisheries, tourism, and fossil fuel extraction.
However, if properly managed, these ocean and coastal areas also present the greatest opportunity for island nations to capture sustainable benefits of their blue economies while increasing their resilience to climate change. A lack of adequate information has meant that island nations have not optimized the potential benefits of this great resource.
" We aspire to empower ourselves as large ocean states- as 'blue guardians'. Our oceans are  under threat as never before.  But never before has the imperative of turning to oceans as true spaces of sustainable development been so pressing. Building on the Samoa Pathway, and on Sustainable Development Goal 14, we can build sustainable partnerships that focus on the strengths of islands and not their weaknesses," the President added.
With the formal establishment of SIDS DOCK as an intergovernmental organization of the United Nations, Blue Guardians will assist island nations with broadening their economic and sustainable development master plans to include ocean and coastal management, and will help SIDS implement the goals outlined by the Samoa Pathway.
Blue Guardians will leverage big data solutions and harness informational tools to allow SIDS to set priorities in sustainably managing their fisheries, tourism and renewable energy sectors. The program is also raising a Blue Guardians multi-donor trust fund that will go to participating islands for technical assistance, data acquisition and natural resource management.
The President was accompanied to the event by the Minister of Foreign Affairs and Transport, Mr. Joel Morgan and the Ambassador for Small Island Developing States and Climate Change, Ambassador Ronny Jumeau.
Editor's Note