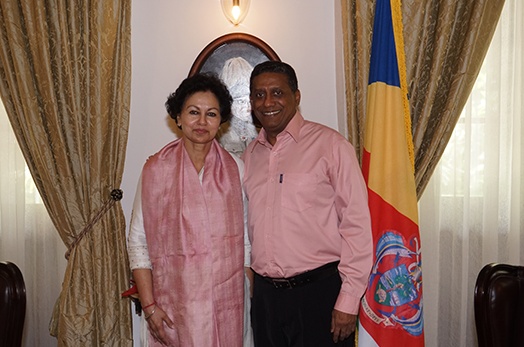 The President and Chief Executive Officer for Commonwealth of Learning (COL), Professor Asha Kanwar, paid a courtesy call on President Danny Faure at State House this afternoon. As Seychelles is a member state of the Commonwealth of Learning, Professor Kanwar is on an official visit to the country to further discussions on the use of technologies and how to expand its access to information and training.
As former member of the Board of Governors of COL, the President welcomed Professor Kanwar to Seychelles and conveyed his continued support to the programme.
"I can assure you of my continued support. Not only to ensure that the programmes here in Seychelles are working but in the international arena as well. I will continue to sell the programmes to the African Leaders so that they can learn more on how useful it has been. For example, Seychelles, a small island state, has benefitted in terms of capacity building, increased access to education and rich experiences in  networking and collaborating with other small states of the Commonwealth," said President Faure.
During the meeting, the President and Professor Kanwar discussed matters of priority and where the Commonwealth of Learning could assist the Seychelles, such as in teacher training. Professor Kanwar also gave an update to the President on the Commonwealth of Learning.
Speaking to the local media after the meeting, Professor Kanwar explained that besides congratulating President Faure in his new role as Head of State, she also expressed her appreciation and gratitude to the President for being such a great supporter of the Commonwealth of Learning, from the day that it was founded. She also explained how COL is trying to expand its programme internationally.
"It is interesting that both the Minister for Education and Human Resource Development, whom I met this morning, and President Faure, have both put teacher training a top priority. So now we are going to work with your government to try and set up a programme so that we can fast track this initiative," said Professor Kanwar.
As partners to the University of Seychelles, Professor Kanwar will be present at the launching of a course of the Blue Economy tomorrow, which will be offered by the university online, whereby anybody from around the world can enrol on this course.
Also present at the meeting was the Commonwealth of Learning Focal Point for Seychelles, Dr Marie-Reine Hoareau, and Education Specialist in Virtual University for Small Island States of the Commonwealth (VUSSC), Mr John Lesperance.