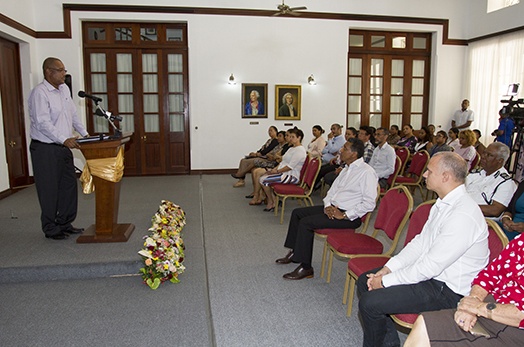 President Danny Faure was the guest of honour at a presentation ceremony held at State House this morning, which provided an update on the work being done by the Agency for the Prevention of Drug Abuse and Rehabilitation (APDAR) in Seychelles.
The Agency for the Prevention of Drug Abuse and Rehabilitation (APDAR) was created on 12th July 2017, following approval by the Cabinet of Ministers. Later, on 14th August 2017, the President assented to the Prevention of Drug Abuse and Rehabilitation Agency Act 2017.
President Faure and other distinguished guests viewed a short documentary, a production of APDAR in collaboration with Etincelle Communication, presenting what the Agency has been doing to help in the fight against substance abuse in Seychelles. The documentary included the most recent statistics on drug abuse in Seychelles, the different services that APDAR provides to assist those that wish to stop taking drugs, and success stories of those that through services such Comprehensive Aftercare and methadone treatment have stopped using drugs.
Speaking at the ceremony, the Secretary of State Responsible for Prevention of Drug Abuse and Rehabilitation, Dr Patrick Herminie, congratulated the staff of APDAR for the remarkable work that they are doing. He confirmed that approximately 5000 people in Seychelles are using heroin, and that nearly 10% of young people use and abuse drugs.
Through his intervention, he went over the different programmes and services that APDAR is doing such as Prevention and Education, Demand Reduction, Community and After Care, and Harm Reduction. He also shared the challenges that APDAR is facing in terms of human resources.
Speaking to the press, Dr Herminie said that APDAR has completed its national master and strategic plan which will be presented to the Cabinet of Ministers shortly, and an expected implementation date of January 2019.
"I think we have made a lot of progress. We have managed to put in place a low threshold methadone programme and currently, we are treating around 1500 young people. Some of them are now completely drug free. Our patients are also being treated for drug-related diseases, such as HIV and Hepatitis C. We have seen a decrease in drug-related crimes and even in the consumption of heroine based on the survey. We are still a young organisation and it will take some time before you all see an impact of our interventions, but we have other targeted programmes that we are putting in place for pregnant women, prisoners, mothers abusing drugs and others," said Dr Herminie.
Also present at the presentation ceremony this morning were Members of the Cabinet of Ministers, Commissioner of Police Mr Kishnan Labonté, Secretaries of State, Principal Secretaries and CEOs, staff from APDAR and other distinguished guests.