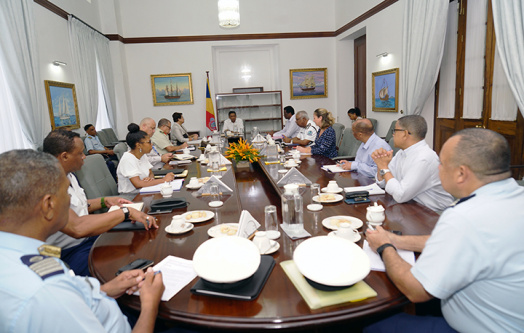 President Danny Faure chaired a meeting this morning to address maritime security matters, together with relevant ministries and agencies. The meeting follows on from measures announced by the President in response to the threat of COVID-19. It was held with the aim of reviewing the existing system in place and maintain effective maritime monitoring.
President Faure was briefed on the existing situation and measures currently in place in line with the Public Health Regulations, including the restriction of entry and exit into and from Seychelles via sea. The officials in attendance also detailed the limitations that need to be addressed in order to maintain the safety of Seychelles' maritime space. Officials present committed to reviewing existing regulations and proposing amendments where necessary in order to guarantee stringent protection of maritime security. It was also agreed that coordination between key ministries and agencies involved would be strengthened.
The President reiterated his commitment to keeping the Seychellois community safe from the threat of COVID-19, and the urgent need to ensure the integrity of Seychelles' Economic Exclusive Zone, particularly given its primary role as the country's source of economic opportunities. He also emphasised the need to keep citizens informed of the measures in place on a regular basis.
Present at the meeting this morning was the Designated Minister, Mrs Macsuzy Mondon, the Minister for Fisheries and Agriculture, Mr Charles Bastienne, the Chief of Defence Forces, Colonel Clifford Roseline, Commissioner of Police, Mr Kishnan Labonte, Director General of the Seychelles Intelligence Service, Mr Benediste Hoareau, Principal Secretary in the Office of the Vice President, Ms Rebecca Loustau Lalanne, Principal Secretary in the Office of the Designated Minister, Ms Sheryl Vengadasamy, CEO of the Seychelles Maritime Safety Authority (SMSA), Captain Joachim Valmont, Deputy Commissioner of Police, Mr Romano Songor, the interim Chief Executive Officer of the Seychelles Fishing Authority (SFA), Mr Cyril Bonnelame, Commander of the Seychelles Coast Guard, Col Simon Dine and the Director for National Information Sharing and Coordination Centre (NISCC), Lieutenant Colonel Leslie Benoiton.