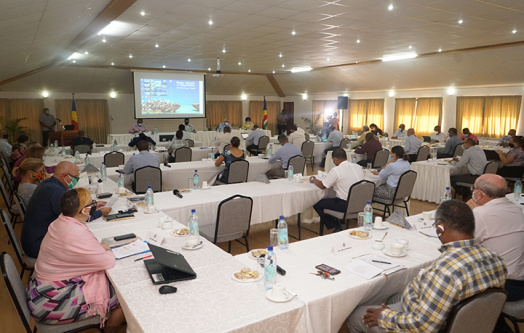 President Faure chaired a follow-up session to review the National Framework for the integrated management of reopening Seychelles' international airport at the STC Conference room this morning, where it was agreed that the airport would open to commercial passenger flights on 1 August 2020.
The Public Health Commissioner, Dr Jude Gedeon, provided an overview of the COVID-19 situation on both a national and international level, providing details on the global trends of COVID-19 and an update on the cases in Seychelles. The Task Force Committee also provided an update of its work, with its chairperson, Minister for Tourism, Civil Aviation, Ports and Marine, Mr Didier Dogley, sharing outcomes of the airport drill held on Monday 20 July to test the effectiveness of measures in place.
Key government and private sector stakeholders present gave a comprehensive report on the level of preparedness of the country to reopen its borders in just over a week, including the Health Care Agency, Department of Tourism, Seychelles Tourism Board, SCAA, SHTA, SCCI, GETUS, SIFCO and CEPS.
The was an overview of National Framework building blocks from the business community concerning Business Support, Health Certification, Digitization and Special Projects Support mechanisms as well as training and awareness. SIFCO provided an update on safety measures being implemented across various religious denominations. There was also an update from CEPS Secretariat concerning their implementation of health regulations for their members as well as results of a recent survey. The tourism-related presentations highlighted the setting up of permanent structures, an update to review and assessment on Safety Opening Procedures (SOPs) at tourism establishments in preparation for visitors, and the safe travel safe tourism concept. All presentations expressed preparedness and a strong stance in favour of re-opening borders to commercial flights on 1 August.
Commenting on cases of COVID-19 in Seychelles, President Faure reiterated that there has been no community transmission and deaths in the country. He commended the hard work of the Health Authority to ensure that the medical staff workers are trained and given the necessary equipment to deal with this pandemic, in addition to implementing robust policies and strategies to protect citizens of Seychelles and citizens of other countries who are in the country and those that will soon enter Seychelles. 
The President also commended the increase of training across the board to meet the targets set by the National Framework for integrated management. He encouraged everyone to continue to prepare safety measures, and said that as a country, all citizens need to collectively take up their responsibility as commercial flights resume. He noted that establishments that have not yet certified will not be able to receive tourists until they work on their SOPs, and provide their staff with the necessary induction training.
The President encouraged the public sector to remain vigilant and abreast with the National Framework in place. As for the media, based on a meeting held with all local press, they are to use the focal contact persons for communications to ensure accurate information reaches the population.
The next meeting will be on 4 August 2020, to ensure that all sectors are meeting the standards. 
Present for the meeting at STC Conference, was the Minister for Tourism, Civil Aviation, Ports and Marine, Mr Didier Dogley, the Minister for Finance, Trade, Investment and Economic Planning, Mr Maurice Loustau-Lalanne, Minister for Employment, Immigration and Civil Status, Mrs Miriam Telemaque, the Attorney General, Mr Frank Ally, Secretary of State for Health, Ambassador Marie-Pierre Lloyd, Economic Advisor to the President, Mr Bertrand Belle, the Governor of the Central Bank of Seychelles, Ms Caroline Abel, Principal Secretary for Economic Planning, Mrs Elizabeth Agathine, Special Advisor to MFTIEP, Mrs Sitna Cesar, the Commissioner of Police, Mr Kishnan Labonte, Principal Secretary for Health, Dr Bernard Valentin, Principal Secretary for Risk and Disaster Management, Mr Paul Labaleine, Special Advisor for Health, Dr Loren Reginald, Senior Policy Adviser Department of Health, Dr Conrad Shamlaye, CEO of the Healthcare Agency, Dr Danny Louange, the Public Health Commissioner, Dr Jude Gedeon, Principal Secretary for the Department of Immigration and Civil Status, Mr Alain Volcere, Principal Secretary for Employment, Mr Jules Baker, the Special Advisor for Employment, Ms Veronique Bresson, Special Advisor Immigration and Civil Status, Mr Michel Marie, CEO for SETS, Mr Guy Morel, Chief Policy Analyst, Employment, Ms Susan Morel, Director General for Employment Promotion, Mrs Letimie Dookley, Chief Immigration Officer, Mr Michel Elisabeth, Principal Secretary Tourism Department, Mrs Anne Lafortune, Principal Secretary for Civil Aviation, Ports & Marine, Mr Alan Renaud, Principal Secretary for Agriculture, Mr Antoine-Marie Moustache, Principal Secretary for Fisheries, Mr Jude Talma, CEO for the Seychelles Tourism Board, Mrs Sherin Francis, CEO of SCAA, Mr Garry Albert, Deputy Governor of the Central of Seychelles, Mr Christopher Edmond, Director - Research and Statistics at Central Bank of Seychelles, Ms Hilda Palconit, the Chairperson of SCCI, Mr Oliver Bastienne, Secretary General SCCI, Mrs Iouana Pillay, Member of the SCCI, Ms Donaline Delpeche, Vice Chairperson of SIFCO, Mrs Marion Gendron, the Chairperson of SHTA, Mrs Sybille Cardon, the Vice-Chairperson of SHTA, Mr Allen Mason, Executive Secretary of GETUS, Mrs Tina Hoarau, the Secretary-General of SFWU, Mr Antoine Robinson, representatives of the La Digue Business Association, Mr Jose St Ange, Chairperson of CEPS, Mr Jude Fred, Vice Chairperson of CEPS, Mrs Marie-Nella Azemia and member of CEPS, Dr Nirmal Jivan Shah.