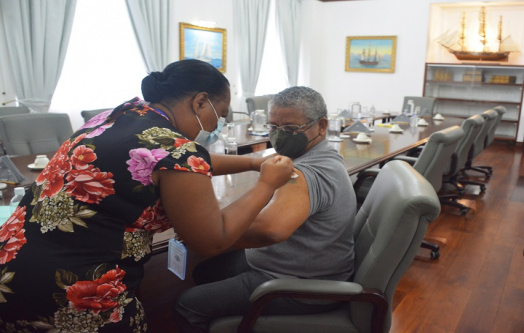 The Office of the President wish to inform that the President of the Republic, Mr Wavel Ramkalawan and the First Lady Mrs Linda Ramkalawan received the second dose of the Sinopharm this morning.
The National COVID-19 Vaccine Campaign, launched by the Ministry of Health on January 10, 2021 is being roled out in phases and includes both the administering of the SinoPharm and COVISHIELD Vaccine to key groups in the country.
Over 30 thousand individuals have so far received the first dose of the Vaccine against COVID-19 as part of the country's national target to vaccinate over three quarter of its population by March 2021.
Editor's Note:
Follow the Ministry of Health's Facebook Page for latest information: https://www.facebook.com/mohseychellesofficial
The President of the Republic, Mr Wavel Ramkalawan along with various community leaders in the country received their first dose of the Sinopharm Vaccine on January 10, 2021:
http://www.statehouse.gov.sc/news/5071/president-of-seychelles-takes-covid-19-vaccine-seychelles-launches-national-covid-19-immunisation-campaign
COVID-19 Information
A new section for COVID-19 Information has been created on the State House website. The section will be updated regularly as and when new information is received: http://www.statehouse.gov.sc/covid-19-information