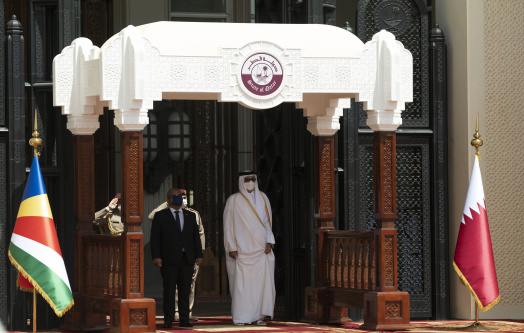 Doha, Qatar, March, 21: Seychelles and Qatar are set to strengthen and diversify relations of cooperation between the two nations. This emerged today following talks between the President of Republic of Seychelles, Mr Wavel Ramkalawan and the Amir of the State of Qatar, His Highness, Sheik Tamim bin Hamad Al-Thani.
The two leaders highlighted the deep bonds of friendship that have existed between the two countries for over three decades and expressed their shared commitment to further elevate collaborations to new heights.
During bilateral discussions attended by both the Seychelles Presidential delegation, Qatar Government Ministers and senior officials, key issues of common interest were outlined. The value to both Seychelles and State of Qatar. Cooperation and exchange in areas such as tourism, budget support, sharing of technical expertise in addressing Covid-19 pandemic, climate change, maritime security, trade and investment, among others were also discussed.
The two leaders also met for  a tête-à-tête before the signing of two Memorandum of Understanding (MoU).
Later in the afternoon, as per tradition for visiting Heads of State or Head of Governments to address young adults enrolled in the Qatar Leadership programme, President Ramkalawan addressed a group of fifteen young Qatari leaders during a high-level dialogue session themed: The role of leadership, skills in decision-making process, lessons learned and challenges facing leaders and how to overcome them.
Visit the State House Facebook Page for full photo gallery: https://web.facebook.com/StateHouseSey
Editor's Note:
President Ramkalawan and his delegation is currently on a 3 day official visit to the State of Qatar at the invitation of the Amir of the State of Qatar, His Highness, Sheik Tamim bin Hamad Al-Thani.
He is accompanied by the First Lady, Mrs Linda Ramkalawan, the Minister for Foreign Affairs and Tourism, Mr Sylvestre Radegonde and the Minister for Finance, Economic Planning and Trade, Mr Naadir Hassan.